I'm currently procrastinating a phone call that will contribute greatly to my sanity. I've been meaning to post for a few days and I really haven't been that tired.. I've just been binge-watching Rookie Blue with husband and jalapeño dip. Quick review: I liked Rookie Blue when it queued on my Hulu and wanted to get to know the dramatic-cop storyline. Now that I know them, I just want the story to be told already. Or I want a new climax to look forward to. It's a little predictable. I even expected Jerry Barber's death for all of it's sudden plot-twisting worth. Since I'm on television, I've been meaning to drop a quick review on Victoria Mahoney's Yelling to the Sky. It was good in that it reminded me of the Future. It was quiet, dramatic, confusing, way too deep, and "good."
Now on to my main motivation for this post. I wanted to share with ya'll my daily morning protein shake. Back in December, when AJ and I were physical-health go-getters– dieting in everything we ate; doing P90X everyday– I tried fruit smoothies. Out of pure coincidence, I loved the harvest peach, strawberry-banana combination and stuck with it. Although we still only eat egg whites, low-fats, and grains, our health kick slowly dimmed to nothing and cheat days became prominent. My OB-GYN doctor has been pushing me to get more protein into my diet (and that doesn't include the pounds of cheese I consume everyday) so I thought, Well, what better way than a powder-blend into a drink? And I have been really good about it. I don't really eat meat if that clears things up for ya. A powder drink is the only way the protein is gonna get in me.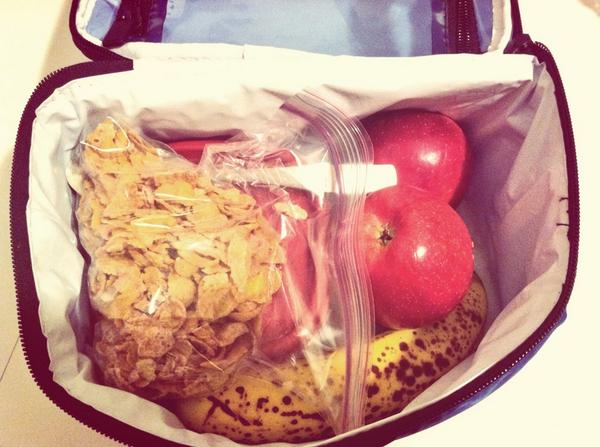 Every morning I take the following shake, two apples, a banana, a parfait (oat cereal and strawberry-banana yogurt), and maybe a sandwich to work with me. I do this because my desk is so far from the parking lot that I just ration what I have. My appetite has been fulfilled and it's rewarding sticking to a diet again (forcibly but whatever). And then I come home and eat according to whatever is reasonable. The goal is to not engorge just because I'm entitled to it. Everything in moderation. Anyway, here's my protein shake.
Four Dole Whole Strawberries (couldn't find the strawberry-banana this time around)

That's not sugar on top. Don't fret.

A little bit of water as a base
Two scoops of EAS 100% Vanilla Whey Protein
A couple spoons of any peach yogurt (I got the low-fat Great Value kind but prefer Yoplait's Original Harvest Peach)
Milk to fill in the rest
I blend this up, have it for breakfast at six, and wait until eleven when I'm hungry. At eleven to noon, I pick at what I have just to satisfy the hunger. Water helps extend metabolism, too.
In other news, I haven't seen my hair in two weeks but I unbraided one of my box braids out of pure annoyance that it was dangling by a string. So I have one piece of hair exposed, my roots curlier than I've ever seen it, the ends bone-straight. I clipped the perm out and have been playing with the tiny fro ever since. I'm excited that my entire head could possibly look like this! I thought I was 4C but I'm now starting to learn that I may be 3C or 4A. I mean, I have never seen my natural hair at its best (that way it is now). I'm motivated to live in protective styles. In this ever-changing journey, I recently decided to moisturize every morning with a water/olive oil spray bottle. Hopefully takedown wouldn't be as tragic as the crochet. I do have more access to my roots with the box braids and they do feel healthy.
Now, AJ and I are on our way to Pennsylvania to do our first Transcendental Meditation session. I've been looking forward to this since he proposed it last month. Now I'm reminded to make that phone call. If worst comes to worst, my instructor will teach me how to center my sanity myself.